Muroff-Kotler Visual Arts Gallery
The Muroff-Kotler Visual Arts Gallery serves as a center for creative artistic activity at the College and for the outside community. It also functions as an environment for teaching, performing, and exhibiting.
The College's permanent art collection enriches the cultural climate on campus by making additional works of a high level of artistic achievement available to students and the community. In this manner, the collection serves as a permanent visual reference source.
The College believes that the acquisition of art works and the presentation of different art exhibitions assist the College community in setting standards for judgment and perception.
---
Art Events & Exhibitions in the Gallery
The Spring 2017 Schedule
---

an eye, open
Works by Petra Nimtz and Jessica Poser

January 27 – February 17
Opening Reception: Friday, January 27, 5:00-7:00 p.m.
Petra Nimtz is a German-born painter residing in Woodstock, NY. She states, "The paintings are an exploration of intuitive abstraction…they document visual diaries of my inner world. By using my left (non-dominant) hand, I am able to avoid preconceived notions and create works that are
fresh and imaginative."
Jessica Poser creates mixed-media works that explore the psychodynamic intersections of natural and built environments and forms. Her work investigates the aesthetics of craft and the handmade as a means with which to draw connections between psychological and material processes.
---
Visiting Artist
The Illustrator's Show
March 3 – April 7
Opening reception: Friday March 3, 6:00 p.m. – 8:00 p.m.

Spring 2017 Visiting Artist Exhibition, The Illustrator's Show, will bring together five artists based in the Hudson Valley and NYC who work in the burgeoning field of children's illustration. The show will include examples of preliminary sketchbook concepts to finished art and book products. As visiting artists, the individuals will come to the gallery for hands on workshops, portfolio reviews, and conversations with students in the Fine Art and Design programs.

Featuring:

Carin Berger • David Goldin • David Gordon • Giselle Potter • David Soman
---
Spring 2017 Schedule of Arts Events
---

Mary Louise Wilson
Artist in Residence
Mary Louise Wilson is a Tony and Drama Desk Award-winning American stage, film, and television actress, singer, and comedian. In a stellar theatrical career that has combined plays and musicals, Mary Louise Wilson has been awarded a Tony for Grey Gardens and a Tony nomination for Cabaret . She received critical acclaim for Full Gallop , her solo show about Diana Vreeland, and starred in the off-Broadway premiere of 4000 Miles. Other Broadway credits include Gypsy, The Odd Couple, and The Women.
Gathering and Q&A Session:
Tuesday, March 7, 2:00 p.m.,
Quimby Theater, Vanderlyn Hall
Meet Mary Louise and gain insight into her incredible career as a performer and teacher. Open to the public.
Class Visits
Mary Louise Wilson will also work privately with the SUNY Ulster theatre students on scene work, monologues, solo written performances and speaking Shakespeare over the course of the semester (open to SUNY Ulster theatre students only).
---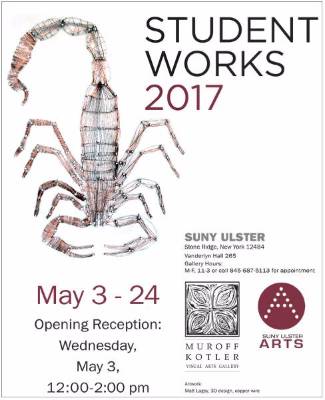 Student Works 2017
April 26 - May 24
Opening Reception Wednesday, May 3, 12:00 p.m. – 2:00 p.m.

This annual exhibition features work created by SUNY Ulster students in the Fine Art, Design, and Fashion Design programs, as selected by instructors. Always a highlight!
---

Spring Fashion Show
Friday, May 19, 7:00 p.m.
Quimby Theater, Vanderlyn Hall
Come see the design collections of the first graduating class of SUNY Ulster's Fashion Design Program! This fashion show demonstrates the mastery of skills and knowledge in design, pattern-making, draping, and sewing that have prepared these graduating students for transfer to four-year colleges and future success as professionals in the fashion design industry.
$5.00 suggested donation.
---
Future Voices 2017: High School Art from Ulster County
June 2 - 15
Opening Reception Friday, June 2, 5:00 p.m. – 7:00 p.m.


This annual exhibition gifted up-and-coming artists from Coleman, Ellenville, Kingston, Onteora, Rondout, and Saugerties High Schools.
---
Muroff Kotler Visual Arts Gallery: VAN 265